Please Join us in Orlando!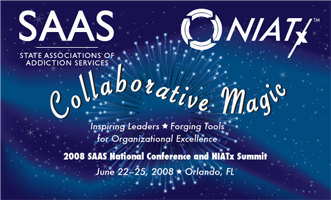 It's not too late to register for the SAAS National Conference and NIATx Summit, June 23-25, 2008, in Orlando, Florida!
At this unique joint event, you will have a rare opportunity—possibly a once in a lifetime opportunity—to learn creative workforce development and management strategies from organizations as dissimilar as the Disney Institute, the United States Navy and Cirque du Soleil. You'll also have a chance to learn how a small southern hamburger chain, Pal's Sudden Service, uses home-cooked process management techniques to compete and succeed against the big chains. Then, you can take your totally new point of view and reflect it off an excellent set of workshops and café discussions.
Presentations will focus on critical management challenges such as organizational change; performance management; workforce development; information technology; quality improvement; and other timely topics.
We are also pleased to have Terry Cline, Ph.D., Administrator of SAMHSA, Timothy Condon, Ph.D., Deputy Director of NIDA, and H. Westley Clark, M.D., J.D., Director of CSAT, as our keynote and plenary session speakers.
We're confident that you'll come home energized with a completely different perspective and some new tools to deal with the challenges presented by your work. We look forward to seeing you in Orlando! Click here for more details
Process Improvement in Mental Health Setting

AMHC is a private, non-profit behavioral health care organization based in Northern Maine. AMHC has evolved into a community health organization offering a wide variety of outpatient and residential services including: Emergency, Mental Health, Substance Abuse, Community Support, and Speech and Language services. Read how this agency's change project relieved psychiatrists of administrative burdens, increased client contacts, and increased revenue.
Four NIATx Posters at the 2008 CPDD Conference

Staff members from the NIATx National Program Office will present four posters at the 2008 College on Problems of Drug Dependence conference in San Juan, Puerto Rico, June 14–19, 2008.