Orlando is Magic: 2008 SAAS Conference/NIATx Summit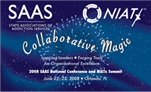 More than 600 attendees convened at the Buena Vista Palace Resort in Orlando June 22-25 for the SAAS Conference/NIATx Summit. Check the NIATx and SAAS Web sites soon for more coverage of the event's collaborative magic--and for details on next year's joint event.
NIATx Transforming Philadelphia

Philadelphia's Tools for Change Project uses the NIATx model of process improvement to transform the entire city into a community of recovery.
Click here to read the complete story
Advancing Recovery in Missouri: Removing Barriers to the use of MAT

Medication-assisted treatment has been historically underutilized in Missouriís publicly-funded system of care. In the first year of the Advancing Recovery project, the Missouri Single State Agency in partnership with ten providers increased the use of naltrexone for the treatment of alcoholism.
Read the complete report.