NIATx Technical Assistance Report: Spread

This Technical Assistance Report shares useful information and practical tips associated with the spread of successful process change ideas within an organization. It provides an easy-to-read overview of spread; a series of self-assessment tools designed to help identify the most suitable change ideas to spread; a guide to effectively communicating those change ideas; and a compendium of ideas tried, tested, and successfully spread within member agencies of the NIATx collaborative.
Announcing the First Annual NIATx Summit: Improving Access and Engagement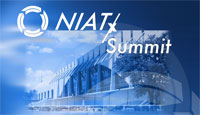 Please join us for the First Annual NIATx Summit: Improving Access and Engagement in Addiction and Behavioral Health in San Antonio, Texas, April 23-25, 2007. The First Annual NIATx Summit will promote process improvement and serve as a catalyst for energizing the world of addiction treatment/behavioral health.
A pre-Summit Meeting on April 23 will allow members of each NIATx initiative to meet as a unique group. In the sprit of collaborative learning, this meeting will bring everyone together to share their work and get to know their colleagues in the expanding NIATx.
The second and third days of the Summit will be open to the field at large. You'll hear from experts from outside the field share their successes with process improvement, along with nationally-recognized plenary speakers.
You'll soon be receiving a postcard about the event, and we encourage you to visit our Web site regularly for registration information and program details. We hope that you will be able to join us—your participation will help to make the first Annual NIATx Summit an exciting and rewarding event for all!