Bringing people, ideas and technology together to improve addiction treatment and recovery
Interactive Voice Recognition Technology Shows Promise
Expert Commentary

Interactive Voice Recognition (IVR) technology shows promise for self-monitoring among among those who misuse alcohol.
Learn more about its potential to trigger additional supports and offer cost effective means to assess long-term program efficacy.
News
Center for Health Enhancement Systems Studies Awarded Five-Year NIAAA Grant
Full article
Engineering recovery: An expert in organizational change turns his eye to addiction.
Full article (PDF)
UW Professor to present at national mental health conference Full article
Visionary Prototype
A visionary team of experts from around the world has put technology, ideas, and knowledge in addiction treatment together to form a relapse prevention prototype. This prototype shows how to use technology to improve addition treatment.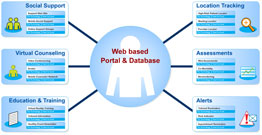 Learn about the different services in the IFR prototype and how they work together to improve addiction treatment and recovery outcomes. Watch how patients interact with the system to get the services and support they need for a successful recovery.