Performance Management
Creating a state information system to support process improvement requires a commitment from leadership and an investment in the technical infrastructure and human capital to support the critical system components. A primary purpose of a process improvement performance management (PIPM) system is to collect information, measure change, and provide feedback on the impact of process improvement efforts within the state.
Measuring the impact of change requires that both the state (or other payer system) and the providers can:
Providers who desire to measure the impact of PDSA change cycles often rely on a paper and pencil system. While it can be an effective short-term approach to measuring the impact of change, the primary benefit is limited to change cycles. When provider organizations should rely on their own internal information systems to track the long term impact of change, the benefits of such systems are limited to provider organizations.
While individual provider information systems form important building blocks for PIPM, it does not represent a viable long-term solution for building a sustainable state-wide PIPM infrastructure. In ideal circumstances, states might invest in an infrastructure that combines information from the patient's health record with information about their behavioral health (e.g., exercise log) in one electronic record.
While most states have not reached this point, grantees in STAR-SI and NIATx 200 initiatives are beginning to invest financial and human resources in the technology and infrastructure necessary to support a PIPM system within their state. These systems are based on the concept that process improvement promotes performance improvement.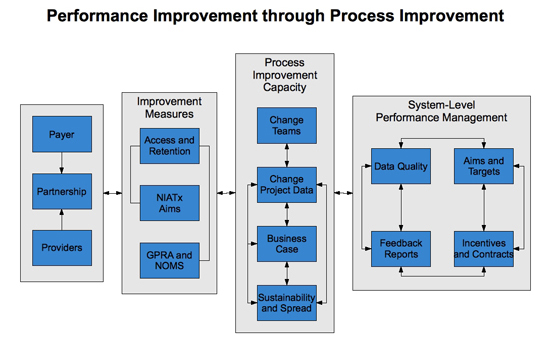 Download a PDF version of Performance Improvement through Process Improvement.
Additional Information